Our future posts will probably not be as dense but we have a lot to share with the community that's gotten us here.
If you never want to miss one of these, sign up!
Here's what we've shipped 🚢 🚢 🚢 since the start of 2023👇
Hathora Cloud is now open to the wild
We have heard time and time again of the failed multiplayer game launches (you remember Overwatch 2) and we're finally ready to help. After being in private beta since August 2022, Hathora cloud (🔨☁️) is now publicly available in 10 regions. Anyone can now log on to our console and start deploying games on our platform.
It's our foundational goal to make Hathora as easy as possible to integrate with the existing tech stacks. On that front, we've invested heavily in a simple UI to deploy and test your games on our platform with Hathora Console (and CLI support if that's your thing). You can view logs, track metrics, and update deployment configurations with 0 downtime.
If your game isn't containerized yet and you want to test our platform, deploy a Minecraft server on Hathora by following our Get Started guide (NO code changes needed).
Here's a look at our slick new UI.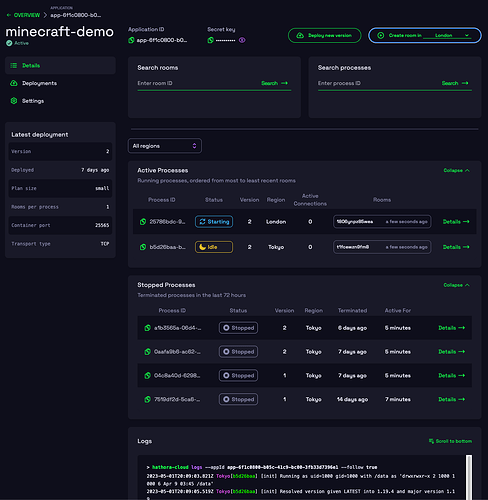 Bullet Mania, a demo game to showcase building scalable multiplayer games with Hathora
We know that building multiplayer games can feel nearly impossible for indie game developers. Bullet Mania showcases how simple it can be to build scalable, production-ready games with Hathora. Bullet Mania is completely open source and is able to scale to thousands of matches just by deploying on Hathora Cloud and integrating with Hathora's SDK. It utilizes our new Lobby Service APIs 1 to make integration even more streamlined. Check out our step-by-step guide to get started: Bullet Mania.
Hathora.dev is here, no more "coming soon"
We've revamped our website to bring transparency to pricing. All new customers get $500 in credit to start developing on our platform.
Looking for guidance on building with Hathora, check out our new docs page.
✅ Are you a student or a non-profit? Reach out to contact@hathora.dev to see if you're eligible for additional credits.
Apart from all our product work…
We stole the show @ GDC 2023
Okay let's be honest, no one can steal the show at GDC but we definitely had the best juggler.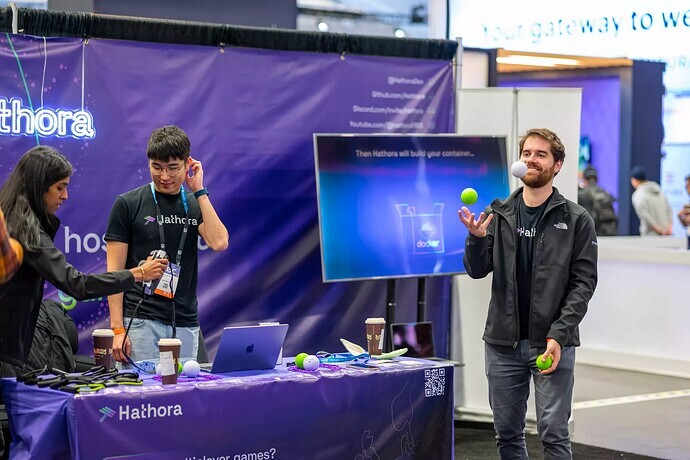 We met so many of you in person for the first time. We heard your stories, what you're struggling with, and what you need from us. We're energized, more than ever, to bring reliable multiplayer infrastructure to you.
Welcomed Two New Hathorians
Justin Chu, a Growth Engineer, is focused on helping indie developers build on our platform. Before joining Hathora he was working on his own games. Check out Bullish, a game that combines deck-building with real-time day trading action.
George Price, a Software Engineer, is focused on our platform. Before Hathora, he was building the analytics platform at Palantir. He is also a part-time juggler.
Announced our $7.6M seed round🤑
VentureBeat covered our $7.6M seed round.
Get Started with Hathora
Join our Discord
Sign up to try Hathora Cloud.
Follow us on Twitter